Hello and welcome everyone to the

Most Likely to Succeed

by Jennifer Echols Blog Tour! I'm thrilled about being part of this awesome tour. Today I will reviewing the book and having a giveaway for you guys to enter. The winner will receive a print copy of all three books in the series. Very cool! I hope you all enjoy reading my review and learning all about this amazing book and series.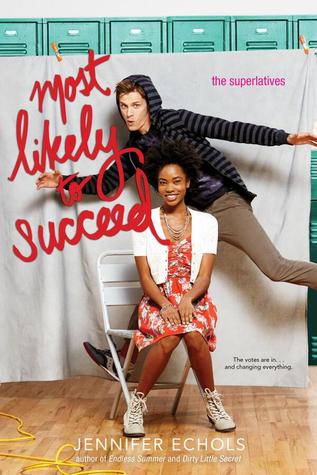 Genre: YA, Contemporary, Romance, Realistic Fiction
Source: via edelweiss
In this sexy conclusion to The Superlatives trilogy from Endless Summer author Jennifer Echols, Sawyer and Kaye might just be perfect for each other—if only they could admit it.





As vice president of Student Council, Kaye knows the importance of keeping order. Not only in school, but in her personal life. Which is why she and her boyfriend, Aidan, already have their lives mapped out: attend Columbia University together, pursue banking careers, and eventually get married. Everything Kaye has accomplished in high school—student government, cheerleading, stellar grades—has been in preparation for that future.





To his entire class, Sawyer is an irreverent bad boy. His antics on the field as school mascot and his love of partying have earned him total slacker status. But while he and Kaye appear to be opposites on every level, fate—and their friends—keep conspiring to throw them together. Perhaps the seniors see the simmering attraction Kaye and Sawyer are unwilling to acknowledge to themselves…





As the year unfolds, Kaye begins to realize her ideal life is not what she thought. And Sawyer decides it's finally time to let down the facade and show everyone who he really is. Is a relationship between them most likely to succeed—or will it be their favorite mistake?
The definition of Superlative is: of the highest kind, quality, or order; surpassing all else or others; supreme; extreme.
This series is rightfully named in more ways the one. Author Jennifer Echols has once again written another book I that was not only
extremely
awesome but one I won't soon forget.
Most Likely to Succeed is the third installment in this fun and flirty series. The story takes place within their senior year of high school with all the same characters we have grown to love from book one and two. This book focuses on
vice-president of Student Council, Kaye
Gordan and the school mascot, ladies man, and cute goofball,
Sawyer De Luca.
Kaye is use to order and being the good girl she is brought up to be. Good grades, academics, and a boyfriend of three years....these's are what makes sense. Having a strict and overbearing Mother who always wants Kaye to be perfect is not easy, and is about to get a lot harder.
Kaye and h
er boyfriend Aiden are not getting along and have been growing apart. Aiden has become mean, possessive, and distance. He's decided he wants a "break" from Kaye. Luckily Kaye was happy for the break because she has had a secret crush on Sawyer. Little does Kaye know Sawyer feels the same way. The problem is because they are both so different their relationship is strained. There are things Sawyer is not telling Kaye about his past as well as the issue of her Mother forbidding Kaye to date Sawyer. It's all one big mess, one that will either make or break this newfound romance.
Are Kaye and Sawyer ready to fight for love or claim defeat? Read the book to find out!
There was just so much going on in this book, so much. I was cheering for Kaye and Sawyer. I totally ship them. Seeing how hard they fought to be with each other and dealing with their emotions is what really made this book stand out. There was so much conflict between both of them that they had to overcome and still find away to be honest with each other in order to make things work. Both characters grew up a lot during the process of the story. Kaye, seeing her life as her own and not living to please her Mother. Sawyer finally opening his heart to Kaye and allowing her to get close no matter what his past was or where his future lies.
I've said before in past reviews for

Jennifer Echols books that she really knows how to make her readers fall in love with the characters and give them a romantic story that's unforgettable. This series keeps getting better and better. I can't wait to see what the author has in store for us next!
Totally Awesome! I loved it, would read again.
Jennifer Echols was born in Atlanta and grew up in a small town on a beautiful lake in Alabama—a setting that has inspired many of her books. She has written nine romantic novels for young adults, including the comedy MAJOR CRUSH, which won the National Readers' Choice Award, and the drama GOING TOO FAR, which was a finalist in the RITA, the National Readers' Choice Award, and the Book Buyer's Best, and was nominated by the American Library Association as a Best Book for Young Adults. Simon & Schuster will debut her adult romance novels in 2013, with many more teen novels scheduled for the next few years. She lives in Birmingham with her husband and her son.
US Only
If the winner has one of the Superlatives book, he/she can choose another book instead written by Jennifer Echols.