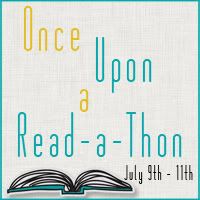 Hi guys! How is everyone today?
So I am here to post my Once Upon A Read-a-thon wrap up. Once again I did not do as well as I would have liked too but not too bad for only a 3 day read-a-thon.
So here is what books I choose to read:
I finished Apparition by Dylan White and The List by
Siobhan Vivian. I never got to read Underworld by Meg Cabot but picked up today and started it.
I completed the following mini-chalenges:
I did have a lot of fun. I wish I could have been more social but RL was holding me back from getting online that often.
Thank you to all of the hosts and all of the awesome giveaways!
Be sure to keep an eye out for my reviews on the books I read coming soon...