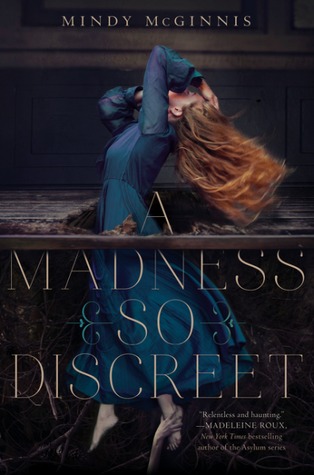 Title: A Madness So Discreet
Author: Mindy McGinnis
Published: October 6th, 2015
Publisher: Katherine Tegen Books
Genre: YA - Historical Fiction - Thriller - Horror
Grace Mae knows madness.




She keeps it locked away, along with her voice, trapped deep inside a brilliant mind that cannot forget horrific family secrets. Those secrets, along with the bulge in her belly, land her in a Boston insane asylum.




When her voice returns in a burst of violence, Grace is banished to the dark cellars, where her mind is discovered by a visiting doctor who dabbles in the new study of criminal psychology. With her keen eyes and sharp memory, Grace will make the perfect assistant at crime scenes. Escaping from Boston to the safety of an ethical Ohio asylum, Grace finds friendship and hope, hints of a life she should have had. But gruesome nights bring Grace and the doctor into the circle of a killer who stalks young women. Grace, continuing to operate under the cloak of madness, must hunt a murderer while she confronts the demons in her own past.




In this beautifully twisted historical thriller, Mindy McGinnis, acclaimed author of Not a Drop to Drink and In a Handful of Dust, explores the fine line between sanity and insanity, good and evil—and the madness that exists in all of us.
"I think we're all quite mad. Some of us are just more discreet about it"
When I received my OwlCrate and saw A Madness So Discreet, I was very disappointed (although I liked the cover so much, I didn't care if the book was awful)! The blurb didn't wow me, and, although I don't mind gory details and bloody descriptions, I can't abide books without a little bit of hope shining through the darkness of the story. After reading the synopsis, I thought nothing else than pain and desperation could come from this story. I'm happy to say I was wrong! This book was definitely dark, but it had its lighter moments and, most important, it managed to convey a sense of hope for the future of the characters.
"Nothing you say will be believed. You're insane"
Grace was a fantastic main character, haunted by the demons of her past, and she kept them at bay retreating in herself so much that she couldn't feel anything. This ability was rather intriguing but also frightening, because clearly if you retreat in yourself too much, you risk losing your way out. Grace couldn't speak for most of her day, and it was interesting how this created a chasm between the person she was in the asylum, who had to keep everything bottled up inside, and the person she was when she was free to be herself. They almost seemed like two different people.
"So are we really that different, the healthy and the ill?" (...) "I would argue there is no difference at all"
Grace walked thin line between madness and sanity, like all the characters of this book: Thornhollow, who looked into the abyss of the criminal mind too much, Grace's father, all the patients in the asylums. Reading the book was like becoming mad yourself, until you were at a point when you couldn't say which character was sane and which was not. You could almost say that the patients were saner than the people outside the asylum. The only really sane character was Grace's sister, but one could argue that she was sane because she kept to the surface and didn't venture down to the depth of the human mind. Along with the exploration of what makes a person mad and if everybody's actually mad but some madness are more discreet than others, the author tackled the idea of morals and whether it's right to follow one's moral system when it clashes with the law. I liked that the book didn't shy away from certain ideas of "eye for an eye" and "the end justifies the means".
The historical fiction aspect of asylums and how patients were treated was deeply fascinating and well-researched. As you may well imagine, the treatments were brutal and lobotomy was largely practiced to tame the most difficult patients. However, I enjoyed the book much more when it delved into the homicide and the study of criminal profiling. Also, the ending was perfect and gave me so much satisfaction!
Overall, this book was riveting and compelling, and I recommend it to anyone who's not afraid of some gory details. I've already read a review comparing this book to Criminal Minds, so I can say that I was not the only one who thought so while reading the book! If you are a fan of this telefilm, this book it's for you!