"Waiting on Wednesday"
is a weekly event, hosted by Jill @
Breaking the Spine
that spotlights upcoming releases that we're eagerly anticipating.
This week, I'm waiting on...
Hardcover, 420 pages
Expected publication: July 28th 2015 by NAL
The #1 New York Times bestselling author of the Black Dagger Brotherhood delivers the first novel in an enthralling new series set amid the shifting dynamics of a Southern family defined by wealth and privilege—and compromised by secrets, deceit, and scandal....


For generations, the Bradford family has worn the mantle of kings of the bourbon capital of the world. Their sustained wealth has afforded them prestige and privilege—as well as a hard-won division of class on their sprawling estate, Easterly. Upstairs, a dynasty that by all appearances plays by the rules of good fortune and good taste. Downstairs, the staff who work tirelessly to maintain the impeccable Bradford facade. And never the twain shall meet.




For Lizzie King, Easterly's head gardener, crossing that divide nearly ruined her life. Falling in love with Tulane, the prodigal son of the bourbon dynasty, was nothing that she intended or wanted—and their bitter breakup only served to prove her instincts were right. Now, after two years of staying away, Tulane is finally coming home again, and he is bringing the past with him. No one will be left unmarked: not Tulane's beautiful and ruthless wife; not his older brother, whose bitterness and bad blood know no bounds; and especially not the ironfisted Bradford patriarch, a man with few morals, fewer scruples, and many, many terrible secrets.




As family tensions—professional and intimately private—ignite, Easterly and all its inhabitants are thrown into the grips of an irrevocable transformation, and only the cunning will survive.
I am so excited to read J.R. Ward's new book and even more so since yesterday. I was emailed by J.R. Wards publisher and was asked to review the book. I should be getting my copy in the mail soon! :)
---
Hillary is waiting on....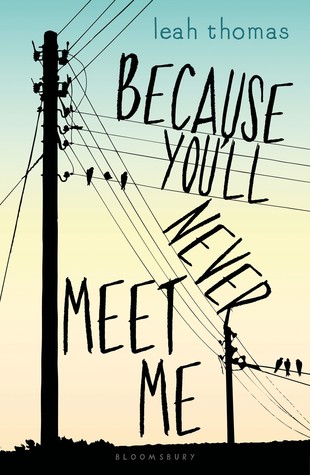 Because You'll Never Meet Me
by Leah Thomas
Number of Pages: 344
Published June 2nd 2015 by Bloomsbury USA Childrens
Genre:
YA -
Contemporary
In a stunning literary debut, two boys on opposite ends of the world begin an unlikely friendship that will change their lives forever.




Ollie and Moritz are best friends, but they can never meet. Ollie is allergic to electricity. Contact with it causes debilitating seizures. Moritz's weak heart is kept pumping by an electronic pacemaker. If they ever did meet, Ollie would seize. But Moritz would die without his pacemaker. Both hermits from society, the boys develop a fierce bond through letters that become a lifeline during dark times—as Ollie loses his only friend, Liz, to the normalcy of high school and Moritz deals with a bully set on destroying him.




A story of impossible friendship and hope under strange circumstances, this debut is powerful, dark and humorous in equal measure. These extraordinary voices bring readers into the hearts and minds of two special boys who, like many teens, are just waiting for their moment to shine.
What book(s) are
YOU
waiting on this Wednesd
ay?
Leave us a comment. We would love to know. :)