"Waiting on Wednesday"
is a weekly event, hosted by Jill @
Breaking the Spine
that spotlights upcoming releases that we're eagerly anticipating.
This week, I'm waiting on...
Hardcover, 384 pages
Expected publication: October 27th 2015 by Harlequin Teen
Genre: YA - Fantasy, Paranormal
The Iron Prince—my nephew—betrayed us all.




He killed me.




Then, I woke up.




Waking after a month on the brink of death, Ethan Chase is stunned to learn that the Veil that conceals the fey from human sight was temporarily torn away. Although humankind's glimpse of the world of Faery lasted just a brief moment, the human world has been cast into chaos, and the emotion and glamour produced by fear and wonder has renewed the tremendous power of the Forgotten Queen. Now, she is at the forefront of an uprising against the courts of Summer and Winter—a reckoning that will have cataclysmic effects on the Nevernever.




Leading the Lady's Forgotten Army is Keirran himself: Ethan's nephew, and the traitor son of the Iron Queen, Meghan Chase.To stop Keirran, Ethan must disobey his sister once again as he and his girlfriend, Kenzie, search for answers long forgotten. In the face of unprecedented evil and unfathomable power, Ethan's enemies must become his allies, and the world of the fey will be changed forevermore.
Note from me: (GIF's)
These two GIFS say it all! Last week I was looking through Goodreads and noticed the cover and synopsis was up for The Iron Warrior. I just about knocked my laptop on the ground when I saw it. The cover is....njnjsn&djzmkm@9km, huh,hum, epp, ekkk..... There are NO words! None that could use to describe the amazingly awesomeness of this cover! Oh. my. GOD! The synopsis just about killed me! Aaaahhh!!! If you read book #2 then you totally get me! I CANT WAIT UNTIL OCTOBER!!!!!!!!!!!!!!!!!!!!!!
---
Hillary's is waiting on....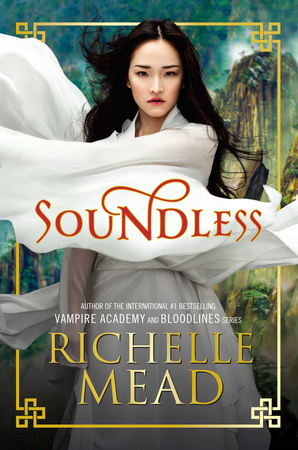 Soundless by Rachel Mead
Number of Pages: 368
Expected publication: November 17th 2015 by Razorbill
Genre:
YA -
Fantasy
From Richelle Mead, the #1 internationally bestselling author of Vampire Academy and Bloodlines, comes a breathtaking new fantasy steeped in Chinese folklore.




For as long as Fei can remember, there has been no sound in her village, where rocky terrain and frequent avalanches prevent residents from self-sustaining. Fei and her people are at the mercy of a zipline that carries food up the treacherous cliffs from Beiguo, a mysterious faraway kingdom.




When villagers begin to lose their sight, deliveries from the zipline shrink and many go hungry. Fei's home, the people she loves, and her entire existence is plunged into crisis, under threat of darkness and starvation.




But soon Fei is awoken in the night by a searing noise, and sound becomes her weapon.




Richelle Mead takes readers on a triumphant journey from the peak of Fei's jagged mountain village to the valley of Beiugo, where a startling truth and an unlikely romance will change her life forever...
Note from Hillary:
One word (or sound): Eeeeeeeeeeeeek!!!!! Gimme gimme gimme! *Grabby hands* YAY! Another book from Richelle Mead this year! And that COVER! LOVE!!! <3 font="">3>
What book(s) are
YOU
waiting on this Wednesd
ay?
Leave us a comment. We would love to know. :)