Note: It's been awhile since I've done a Top Ten Tuesday, like 6+ months. *hangs head in shame* Hopefully I can get back into doing them again now.
Top Ten Tuesday is an original feature/weekly meme created at
The Broke and the Bookish
. This meme was created because we are particularly fond of lists here at The Broke and the Bookish. We'd love to share our lists with other bookish folks and would LOVE to see your top ten lists!
This week's Top Ten is:
Top Ten Inspiring Quotes from Books
1. "The sky is always beautiful.Even when it's dark or rainy or cloudy,it's still beautiful to look at....it'll be there no matter what...and I know it'll always be beautiful."
― Colleen Hoover, Hopeless
2. "Sometimes we meet people and are so symbiotic with them, it's as if we are one person, with one mind, one destiny"
― Gayle Forman, I Was Here
3. "Brave isn't something you are. It's something you do."
― Cynthia Hand, The Last Time We Say Goodbye
4. "You never know when it's going to be the last time."
― Cynthia Hand, The Last Time We Say Goodbye
5. "Everyone is worthy of love." - Hattie"
― Stephanie Perkins, Isla and the Happily Ever After
6. "Under the idea that we can all make our own fates, that we have choices, is the reminder that sometimes we don't. That sometimes life is bigger than our plans. Bigger than us."
― Elizabeth Scott, Heartbeat
7. "You can close your eyes to the things you do not want to see, but you cannot close your heart to the things you do not want to feel."
― Tabitha Suzuma, Forbidden
8. "Time is the longest distance between two places."
― Tamara Ireland Stone, Time Between Us
9. Maybe you can afford to wait. Maybe for you there's a tomorrow. Maybe for you there's one thousand tomorrows, or three thousand, or ten, so much time you can bathe in it, roll around it, let it slide like coins through you fingers. So much time you can waste it.
But for some of us there's only today. And the truth is, you never really know.
― Lauren Olive, Before I Fall
10. "You saved me life, she tried to tell him. Not forever, not for good. Probably just temporarily. But you saved my life, and now I'm yours. The me that's me right now is yours. Always."
― Rainbow Rowell, Eleanor & Park
Anyone can play along! Just do the following:
• Share two (2) or so "teaser" sentences from somewhere on that page
• BE CAREFUL NOT TO INCLUDE SPOILERS! (make sure that what you share doesn't give too much away! You don't want to ruin the book for others!)
• Share the title & author, too, so that other TT participants can add the book to their TBR Lists if they like your teasers.
My teaser comes from the book:
The Wicked Will Rise by Danielle Paige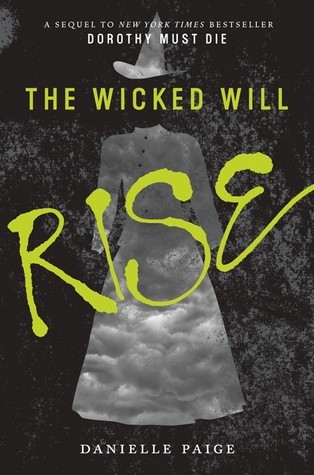 It was no use. The birds were on top of us before I could summon more than the tiniest flame. They screeched madly and circled over our heads, their big black wings blocking out the sun, and then they dove for us.




- Page 14
So that's all folks. Leave a comment if you'd like about my Top Ten or teaser. I love reading them all and of course if you blog leave me a link to YOUR post. I will be sure to stop by and visit you back. Promise. ;)