"Waiting on Wednesday"
is a weekly event, hosted by Jill @
Breaking the Spine
that spotlights upcoming releases that we're eagerly anticipating.
This week, I'm waiting on...
Expected publication: May 26th 2015 by Harlequin Teen
Genre: YA - Contemporary Romance
An unforgettable new series from acclaimed author Katie McGarry about taking risks, opening your heart and ending up in a place you never imagined possible.


Seventeen-year-old Emily likes her life the way it is: doting parents, good friends, good school in a safe neighborhood. Sure, she's curious about her biological father—the one who chose life in a motorcycle club, the Reign of Terror, over being a parent—but that doesn't mean she wants to be a part of his world. But when a reluctant visit turns to an extended summer vacation among relatives she never knew she had, one thing becomes clear: nothing is what it seems. Not the club, not her secret-keeping father and not Oz, a guy with suck-me-in blue eyes who can help her understand them both.




Oz wants one thing: to join the Reign of Terror. They're the good guys. They protect people. They're…family. And while Emily—the gorgeous and sheltered daughter of the club's most respected member—is in town, he's gonna prove it to her. So when her father asks him to keep her safe from a rival club with a score to settle, Oz knows it's his shot at his dream. What he doesn't count on is that Emily just might turn that dream upside down.




No one wants them to be together. But sometimes the right person is the one you least expect, and the road you fear the most is the one that leads you home.
Guys, I am SOOOO excited about this one. Another book from Katie McGarry!!!!!
---
Hillary's is waiting on....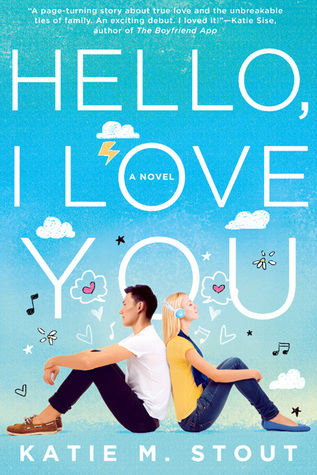 Hello, I Love You
by Katie M. Stout
Number of Pages: 304
Expected publication: June 9th 2015 by St. Martin's Griffin
Genre: YA - Contemporary Romance
A teen escapes to a boarding school abroad and falls for a Korean pop star in this fun and fresh romantic novel in the vein of Anna and the French Kiss.




Grace Wilde is running—from the multi-million dollar mansion her record producer father bought, the famous older brother who's topped the country music charts five years in a row, and the mother who blames her for her brother's breakdown. Grace escapes to the farthest place from home she can think of, a boarding school in Korea, hoping for a fresh start.




She wants nothing to do with music, but when her roommate Sophie's twin brother Jason turns out to be the newest Korean pop music superstar, Grace is thrust back into the world of fame. She can't stand Jason, whose celebrity status is only outmatched by his oversized ego, but they form a tenuous alliance for the sake of her friendship with Sophie. As the months go by and Grace adjusts to her new life in Korea, even she can't deny the sparks flying between her and the KPOP idol.




Soon, Grace realizes that her feelings for Jason threaten her promise to herself that she'll leave behind the music industry that destroyed her family. But can Grace ignore her attraction to Jason and her undeniable pull of the music she was born to write? Sweet, fun, and romantic, this young adult novel explores what it means to experience first love and discover who you really are in the process.
Note from Hillary:
In an interview I did recently for Beckie, I kind of admitted my love
obsession
for all things Kpop. When I heard about this book and how it has to do with Kpop, I almost yelled in surprise and happiness. I'm super excited to read this book and you can definitely count on me buying this as soon as it's released in June. I'm seriously waiting and tapping my fingers…
What book(s) are
YOU
waiting on this Wednesd
ay?
Leave us a comment. We would love to know. :)