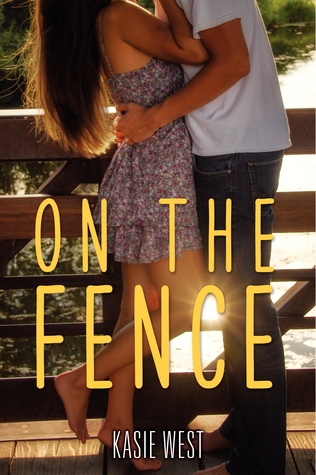 TITLE: On The Fence
AUTHOR: Kasie West
PUBLISHER: HarperTeen
GENRE: YA > Contemporary > Romance
PAPERBACK > 293 pages
RELEASED: July 1st 2014
For sixteen-year-old Charlotte Reynolds, aka Charlie, being raised by a single dad and three older brothers has its perks. She can outrun, outscore, and outwit every boy she knows—including her longtime neighbor and honorary fourth brother, Braden. But when it comes to being a girl, Charlie doesn't know the first thing about anything. So when she starts working at a chichi boutique to pay off a speeding ticket, she finds herself in a strange new world of makeup, lacy skirts, and BeDazzlers. Even stranger, she's spending time with a boy who has never seen her tear it up in a pickup game.




To cope with the stress of faking her way through this new reality, Charlie seeks late-night refuge in her backyard, talking out her problems with Braden by the fence that separates them. But their Fence Chats can't solve Charlie's biggest problem: she's falling for Braden. Hard. She knows what it means to go for the win, but if spilling her secret means losing him for good, the stakes just got too high.
The Why:
When I first heard about
On The Fence
, what really caught my attention was the synopsis for the story. The cover was great too, but it wasn't something new or different. Instead my attention was quickly grabbed by the main character and her personality or more specifically, her being a tomboy. I know for sure I've never read a contemporary about a teenage girl being surrounded by so many guys and being
one
of them too while having a major crush on the boy next door—literally. This book sounded so irresistible and I knew I had to read it as soon as possible!
The What:
From chapter one, I was fully absorbed in Charlie's world and the differences Kasie West put into her as a character. All of the trials and errors Charlie had to power through her life and be strong for made her seem so realistic; I was surprised she wasn't really
real
. Charlie has a great relationship with her father and three older brothers—Jerom, Nathan, and Gage—it was hard not to be emotionally invested in their interactions, including their plenty of funny moments. When Charlie went through one of the worst mistakes of her life and her father found out, creating challenges Charlie would have never thought of, the emotional roller coaster she went through from there on out was authentic to a T. Charlie starts out being stubborn and difficult, but ultimately she learns to accept this new part of her life that brings her closer to Braden—who always seemed like another brother to Charlie, but ends up being a greater part of her life. The romance in the story may have started out hesitant-like, to the point where there hardly was any romance, but once it started budding from a deeply rooted friendship, there was no going back for Charlie.
The Character(s):
By the time I turned the last page to
On The Fence
, I was positive there was only two characters who won over my heart. It wasn't Charlie and Braden though, but Charlie and Gage who even Charlie admits is closest to her out of her three brothers. I just admired the way they were always pulling pranks on each other or together and were on the same team no matter what. Even when Gage managed to get a little disappointed at Charlie for not telling him everything like she always would, he couldn't stay mad at her for long and vice versa. When these two siblings were together, whether out on the field playing a sport or in their house daring each other to do weird things, they were definitely a force to be reckoned with.
The Scene(s):
My favorite scene in
On The Fence
was when Charlie goes on a double date. Braden is also part of that scene, but not as Charlie's date and the tension between the two is horrible and entertaining all in one. It's horrible that Braden has to see Charlie acting nothing like her true self and at the same time entertaining that Charlie has to avoid Braden towards the end of that date or she feels like she'll explode from seeing him with someone other than herself. Plus, Braden almost makes her trip; on purpose. This scene really helped me as a reader to see that even when Charlie tries to invest her time in another guy, it's impossible for her to be happy about it when Braden is right next to her enjoying his time with another girl. It also showcases some of the insecurities Charlie admits throughout the story that she has to learn to deal with and accept. Whether she learns on her own or not is a whole other story readers have to find out for themselves.
I knew why I cared. Why this mattered so much. Why his opinion was the only thing that mattered. I was more than just crushing on him. I loved Braden. (231)
On The Fence
by Kasie West was a unique, one-of-a-kind, and enjoyable story about a teenage girl struggling to feel comfortable in her own skin. I'm sure many of us have felt the same at some point in our lives and being able to read that through a character that had to learn to accept herself, flaws and all, was something I truly enjoyed from this story. The first-third of the book did start out slow, focusing more on Charlie's family and some of the struggles she had to deal with, but eventually the plot began to expand and focus more on the fun stuff.
On The Fence
was definitely a great summer read and fans of Kasie West's other books and contemporary romances should definitely give this book a try! I think you'll love this new world that Kasie created through Charlie's eyes that teaches readers to love ourselves for who we are; even if we change a little in the process.
Totally Awesome! I loved it, would read again.