"Waiting on Wednesday"
is a weekly event, hosted by Jill @
Breaking the Spine
that spotlights upcoming releases that we're eagerly anticipating.
This week, I'm waiting on...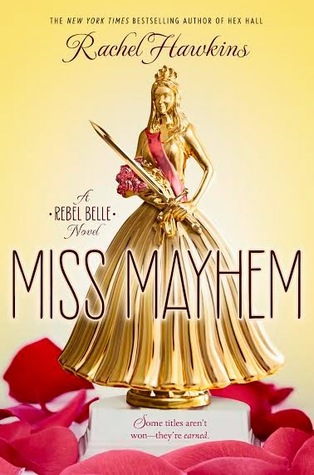 Miss Mayhem by Rachel Hawkins
Series: Rebel Belle #2
Number of Pages: 352
Expected publication: April 7th 2015 by Putnam Juvenile
Genre: YA - Paranormal Romance
Life is almost back to normal for Harper Price. The Ephors have been silent after their deadly attack at Cotillion months ago, and best friend Bee has returned after a mysterious disappearance. Now Harper can return her focus to the important things in life: school, canoodling with David, her nemesis-turned-ward-slash-boyfie, and even competing in the Miss Pine Grove pageant.





Unfortunately, supernatural chores are never done. The Ephors have decided they'd rather train David than kill him. The catch: Harper has to come along for the ride, but she can't stay David's Paladin unless she undergoes an ancient trial that will either kill her . . . or connect her to David for life.
Once again, Hillary will be joining me for today's WOW post. :)
---
Hillary's is waiting on....
The Secrets We Keep by Trisha Leaver
Number of Pages: 256
Expected publication: April 28th 2015 by Farrar, Straus and Giroux (BYR)
Genre: YA - Contemporary Romance
"A girl takes over her twin sister's identity in this emotionally charged page-turner about the complicated bond between sisters."




Ella and Maddy Lawton are identical twins. Ella has spent her high school years living in popular Maddy's shadows, but she has never been envious of Maddy. In fact, she's chosen the quiet, safe confines of her sketchbook over the constant battle for attention that has defined Maddy's world.




When—after a heated argument—Maddy and Ella get into a tragic accident that leaves her sister dead, Ella wakes up in the hospital surrounded by loved ones who believe she is Maddy. Feeling responsible for Maddy's death and everyone's grief, Ella makes a split-second decision to pretend to be Maddy. Soon, Ella realizes that Maddy's life was full of secrets. Caught in a web of lies, Ella is faced with two options—confess her deception or live her sister's life.
What book(s) are
YOU
waiting on this Wednesd
ay?
Leave us a comment. We would love to know. :)