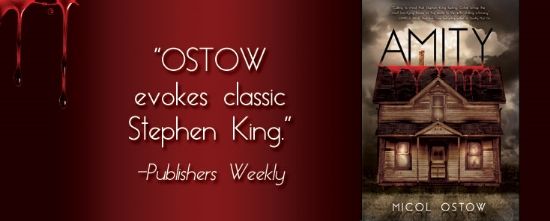 Welcome everyone to the OFFICIAL Blog Tour for
AMITY by
Micol Ostow
!
Today I bring you a fun guest post from the author about what she thinks makes a good scary story. There will also be a giveaway below to win a signed print copy of the book. :)
Enjoy!
---
Amity by Micol Ostow
Hardcover, 368 pages
Expected publication: August 26th 2014 by EgmontUSA
Genre: YA - Horror, Thriller
For fans of Stephen King and American Horror Story, a gruesome thriller suggested by the events of the Amityville Horror.



Connor's family moves to Amity to escape shady business deals. Ten years later, Gwen's family moves to Amity for a fresh start after she's recovered from a psychotic break.





But something is not right about this secluded house. Connor's nights are plagued with gore-filled dreams of demons and destruction. Dreams he kind of likes. Gwen has lurid visions of corpses that aren't there and bleeding blisters that disappear in the blink of an eye. She knows Amity is evil and she must get her family out, but who would ever believe her?





Amity isn't just a house. She is a living force, bent on manipulating her inhabitants to her twisted will. She will use Connor and Gwen to bring about a bloody end as she's done before. As she'll do again.





Alternating between parallel narratives, Amity is a tense and terrifying tale suggested by true-crime events that will satisfy even the most demanding horror fan.
Pre-Order/Purchase:
I've asked Micol

"What key components make up a GREAT horror novel?"
Here's what she said:
Hmm... as much as I'm a huge horror fan, I can't say that I feel confident assessing what makes up a
great
horror novel. But I can say what tends to work for me as a reader (or viewer):
1)
Tone:
A good horror novel sets a tone of dread from page one. Don't believe me? Do yourself a favor and revisit the opening paragraph of Shirley Jackson's
The Haunting of Hill House.
"Whatever walked in Hill House, walked alone."
2) Pacing:
Extreme, high-impact chills need to be interwoven with thoughtful intervals where a reader can recover and catch his or her breath. But not too many intervals! It's a delicate balance.
3) Believable motivation:
Oh, sure – sometimes evil is just evil. That works. But it doesn't hurt to create a character and a set of circumstances that a reader will buy. It's the difference between shock value and emotional resonance. Stephen King's
The Shining
is a great example; Jack Torrance's tortured persona was ripe for possession by the evil hotel. No matter the horrific deeds he commits, we sympathize with him. (No? Just me?)
4) Big scares:
Motivation, pacing, tension and a low build are all well and good, but you still need the major jolts. Let's call that the "boo!" factor. In
Amity,
a lot of those moments tend to happen in mirrors.
5) Just a hint of gross-out.
Look, I'm not big into torture porn. True gore doesn't do it for me at all. But a little glimmer of blood? The power of suggestion cannot be underestimated. Anyone remember the shower scene in
Psycho?
Go back and watch it again – you'll never see Norman Bates' knife pierce the skin. But you will
think
that you do. Now
that's
horror.
About The Author:

Micol Ostow
Micol Ostow has written dozens of books for children, tweens, and teens, but Amity is her first foray into horror. I turns out, writing a ghost story is almost more terrifying than reading one. (In a good way.) Her novel family was called a "Favorite Book of 2011" by Liz Burns at School Library Journal, and her illustrated novel, So Punk Rock (and Other Ways to Disappoint Your Mother), was a Sydney Taylor Notable Book for Teens. In her spare time, Ostow blogs with the National Book Award-winning literacy initiative readergirlz.com. She lives in Brooklyn, NY, with her husband, her (utterly fearless) daughter, and a finicky French bulldog named Bridget Jones. Visit her online at www.micolostow.com or follow her on Twitter @micolz.
The wonderful people at EgmontUSA are giving me a SIGNED print copy of AMITY to give away on my blog! To be entered to win please use the rafflecopter form below.
Open to US and Canada ONLY.
Giveaway closes Sept 14th, 2014