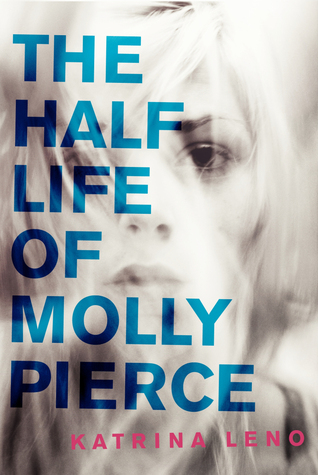 The Half Life of Molly Pierce
by Katrina Leno
Publisher: HarperTeen
Release Date: July 8th 2014


You take it for granted. Waking up. Going to school, talking to your friends. Watching a show on television or reading a book or going out to lunch.





You take for granted going to sleep at night, getting up the next day, and remembering everything that happened to you before you closed your eyes.





You live and you remember.





Me, I live and I forget.





But now—now I am remembering.



For all of her seventeen years, Molly feels like she's missed bits and pieces of her life. Now, she's figuring out why. Now, she's remembering her own secrets. And in doing so, Molly uncovers the separate life she seems to have led…and the love that she can't let go.



The Half Life of Molly Pierce is a suspenseful, evocative psychological mystery about uncovering the secrets of our pasts, facing the unknowns of our futures, and accepting our whole selves.
Name 10 books on your book bucket list.
What a cool subject for a post! This was hard to narrow down!
1. MIDNIGHT'S CHILDREN (Salman Rushdie)
I had to read this one in school, once, but it was a long long time ago and it wasn't the right time for me to be reading the book. I could tell how brilliant it was, but I was young and bored and I wasn't really paying as much attention as I should have. And I don't think I actually finished it.
2. THE AMAZING ADVENTURES OF KAVALIER AND CLAY (Michael Chabon)
I started this but couldn't get into it. But everyone who's ever read it says it's the most brilliant book ever, so I clearly need to give it another try.
3. THE HANDMAID'S TALE (Margaret Atwood)
Margaret Atwood is amazing. Why haven't I read this yet? I'm embarrassed that I haven't read this yet.
4. THE ROAD (Cormac McCarthy)
This is my boyfriend's favorite book. I know I need to read it, but it just seems so BLEAK. I need to save it for one of those days where I can read it in one sitting and just get all the feels out of the way.
5. THE SUN ALSO RISES (Ernest Hemingway)
Hemingway is gorgeous, but you have to be in the right mood.
6. THE WIND-UP BIRD CHRONICLE (Haruki Murakami)
I haven't read any Murakami. I think I would absolutely love him.
7. THE YEAR OF MAGICAL THINKING (Joan Didion)
Also embarrassed I've never read this. Making this list is making me ashamed.
8. ANNE FRANK: THE DIARY OF A YOUNG GIRL
I never had to read this for school. And for obvious incredibly depressing reasons, I've found it hard to find the motivation to pick it up now. But I need to read it. And I will.
9. I KNOW WHY THE CAGED BIRD SINGS (Maya Angelou)
We lost an incredibly powerful, passionate woman recently. I should give her writing more time than I have in the past.
10. ANIMAL FARM (George Orwell)
I never had to read this either! I guess I went to a silly school. Doesn't everyone have to read this?
"A smart, seductive page turner, deeply felt and full of surprises." (Madeleine George, author of The Difference Between You and Me)
"Unfolds its careful origami slowly and hypnotically, taking on one shape after another before finally revealing itself as something stranger and more beautiful than I'd anticipated. A moving, expertly wrought story that will keep surprising you past the last page." (Bennet Madison, author of September Girls)
"A Tilt-A-Whirl of a first novel, a breathtaking thrill ride that takes you in one direction and then spins you off in another, over and over, keeping you guessing with every turn of the page." (Michael Thomas Ford, author of Suicide Notes)
"With a distinct and mysterious voice that matches its mood, The Half Life of Molly Pierce will pull you into Molly's—and Mabel's—world." (April Henry, New York Times bestselling author of Girl, Stolen)
I am a writer from the East Coast, currently living in Los Angeles.





My first book for young adults- The Half Life of Molly Pierce- will be published on July 8, 2014 by Harper Collins.
Giveaway is open to US Only | Must be 13 or older to enter
Win A Half Life of Molly Pierce T-shirt (Us Only)