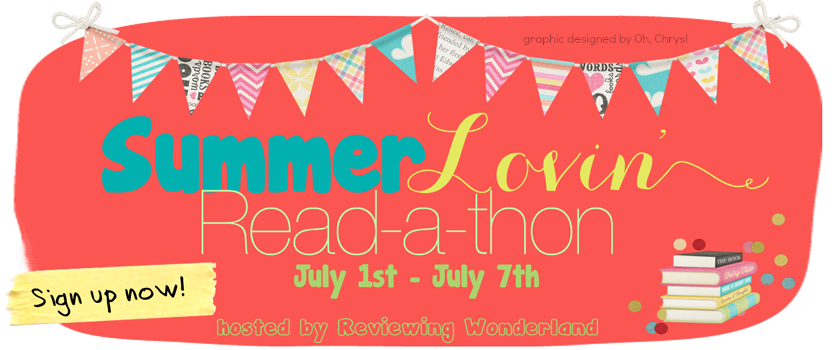 The Summer Lovin' Readathon is a week-long readathon event hosted by seven independent bloggers!
Spend the week reading at your own pace, when and how you want too. There will be daily challenges for awesome
prizes
and opportunities to get points toward the Grand Prize Packs.
As if that weren't enough – the week will end with a 24-hr marathon readathon! Twitter parties, mini-challenges, games, prizes given EVERY HOUR, and more chances to get points toward the Grand Prize Packs.
Sign-ups will be open through July 6th. I'm in, are you?!
Hey gang! Today marks the beginning of another amazing read-a-thon. I am really excited about participating in this one. It looks like they have a LOT of fun and games planned for the week.

Like always, my updates will be displayed below on this page for each day. They can also be found here @SyCo4Twilight | You can use the hashtag: #SummerLovin13 to find them. :)

I'm hoping to get a lot read this week. I really need to get caught up on my review and reading ARC's. I have family coming into town to visit on the 4th so things may be a bit slower around the end of the week. Also, I may end up doing a few extra posts during the week just to show my progress and so everything for the week not all squeezed into one large post. Does that make sense? O_o
I will be reading from the 1st -7th (off and on - not continuously )
Read 4 Books

Do mini-challenges and games.

READ MORE,

GET DISTRACTED LESS!

Meets new people, make friends but most of all have fun!

Do not get stressed out.

Do

daily participation discussion (seen below)
Books I will be reading -
Finished reading =
♥
* = For Review
Daily Updates!
Day One Updates: July 1st, 2013
Number of books read today: 0
Number of books read in Total: 0
Total Pages Read today: 153
Mini Challenges Completed Today: 1
Day One Updates: July 2st, 2013
Number of books read today: 0
Number of books read in Total: 0
Total Pages Read today: 145
Mini Challenges Completed Today: 1
More will be added as the week progresses on...
For this read-a-thon there will be a daily participation discussion. Mine will be here.
Day 1: July 1st, 2013
"Class Orientation" Participation Post:
Introduce yourself and set your goals for the read-a-thon. Some interesting information to include in this post would be Where are you blogging from? What got you into blogging/reading? What is your favorite genre? The possibilities are endless, just be creative!
Hi. My name is Beckie and this is my blog. :) My goals and updates will be displayed above and will be updated during the duration of the read-a-thon. I live and blog from Raleigh, NC USA. I have always loved to read even since I was very little. My parents would tease me saying "I never see you without a book in hand". :) Once I reached HS, I hated reading! I was teased and bullied all throughout those years and ended up losing that love for books I had most of my life. It's wasn't until about 4 year ago I started reading again. REALLY READING! I found I read so much more when I was reading books that really interested me and ever since I have been a book addict. Hopelessly devoted! Why did I start blogging? When I first opened my blog it was simply just to share my love of book with anyone who would stop by and read my blog. Throughout the past few years Bittersweet Enchantment has grown in leaps and bounds. Much more that I expected it to do. Reading and blogging is my release, my joy. I love meeting such wonderful people and reading so many amazing novels.
I read these genre's:
Fantasy, Contemporary / Chick Lit, Realistic Fiction, Horror / Supernatural, Paranormal Romance, Steampunk, Urban Fantasy, Dystopian, Mythology, Science Fiction, Thriller / Mystery / Who done it, Graphic Novels & Manga
Day 1: July 2nd, 2013
"You're the One That I Want" Participation Post:
List your must-have summer reading (the ones you read over and over again) or give us some of your favorite recommended summer reads.
I choose ten. Most of them I have not read yet but really would love to soon. All perfect for summertime.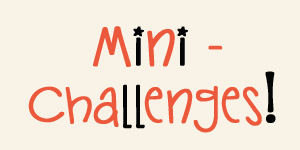 Day 1 Mini-Challenge:
Grab the book you're currently reading (or recently read)
Open to a random page
Share two (2) "teaser" sentences from somewhere on that page NO spoilers allowed! Choose passages void of spoilers. The goal is to entice, yet not ruin the book for others!
"Fine then. Let's go at this from a different angle. I want everyone to tell the group what your favorite breakfast is and why."




We all stared at her. No one said a word.




"I'll start," Tina said breezily, like it didn't bother her that we wanted no part in her games. "I love bran flakes cereal because it gets my morning off to a good start."




"More like a good fart," Chip hooted. The he let you a huge guffaw, cupped his hand under his armpit, and let a few fake ones rip.
Day 2 Mini-Challenge:
Cover Re-Do Challenge hosted by Tumbling Books
My Current read:
MY COVER RE-DO
- done with items from around the house -