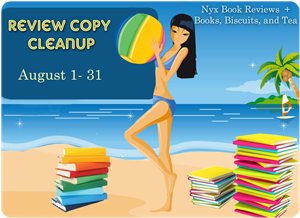 Hello my lovelies!
It's time once again for one of my favorite book challenge on the web. Review Copy CleanUp! The challenge is hosted by Vicky @Books, Biscuits and Tea and Celine @Nyx Book Reviews.
Being a book blogger is no easy task when in comes to running a blog but one thing that always seems to get very overwhelming is finding the time to read your review books that were requested by authors. I know myself I continue to have a growing pile of books to read and while I do eventually read them all for review I feel bad for making the author wait. So I am super excited to be able to join in on this fun challenge again for the month of August.
Come join me? Sign ups end August 15, 2012.
My Plans for this month:
books are not in any specific order
Reading \ Read \ Reviewed
Read
Reviewed | LINK to review
Above I will be keeping track of my progress during the month and updating often. You will be able to find a permanent link to this post on the "book challenge" page above. Be sure to stop by if you wish to see what recent updates have been posted.
Happy Reading & Wish me good luck!