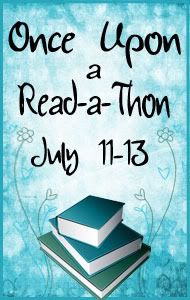 Well the Once Upon a Read-a-thon is now officially over. *boo hoo* I had a lot of fun. I would had liked to had read more books but what I did get to read was really great. So here is the final wrap up of the last 3 days. I will so plan to take part in this fun event next year, I hope you all plan on joining me. :)
Completed Books:
1. Released by Megan Duncan
2. Linger by
Maggie Stiefvater
Book Reviews for Books read:
Completed Mini-Challenges:
Total Pages Read:
619
Total Hours Spent Reading:
6 Hours and 45 Minutes
Final thoughts... (hehe), I think next time I will choose shorter books and make sure to clear my days more. Other than that I had a lot of fun and made a lot of new friends. I hope I can continue to make more friends through something I love, Reading. :) I so would love to do this next year. Thank you to our wonderful host of the Read-a-thon. You all made this a lot of fun for me and everyone to take part in!