Hello friends. I recently have been given the great opportunity to be involved in "The Mieradome Blog Tour". This is hosted by a wonderful new author, Kate O'Hegarty. I was contacted by her to help promote her new book,

Mieradome. Here is some info about her book for those would would like to read it.
MIERADOME is like a twisted Alice in Wonderland with a zing of dragons, leprechauns, Faeries, & doppelgängers!
I also was happy to say Kate asked to do a interview with me about her, her book, and her life. I hope everyone enjoys. Thank you Kate O'Hegarty for sharing with us.
1. Tell me about your book. How did you come up with that (story, angle, idea)?
Here's how I came up with my teen fantasy novel Mieradome.
2. How did you get interested in writing this particular genre (Teen fantasy)?
I've always been interested in fantasy and daydreams. I like the idea that in fantasy you can go anywhere and do amazing things at any moment in time.
3. Do you have any favorite authors or favorite books?
Yes. Frank Herbert's Children of Dune. The Chronicles of Narnia by C.S. Lewis. My House in Umbria by William Trevor.
4. If you were writing a book about your life, what would the title be?
The title would be Persistence.
5. Which super power do you like to have and why?
I'd love to be able to just lift up and fly (that would be cheaper than paying for airline tickets) and you get to see a lot of the world while traveling!
6. If you could eat one food everyday of the rest of your list what would it be?
Cheese Pizza, definitely!
7. Do you read reviews of your books? If so, do you pay any attention to them, or let them influence your writing?
I read some here and there. I definitely try not to take it personally because it's not personal, just someone's opinion. Not everyone is going to like my work, that's just the way the cookie crumbles. I don't let them influence the writing.
8. If you could write a novel with another author whom would it be and why?
I would have loved to work with C.S. Lewis. He had such a great childlike imagination.
9. If you could be any character in fiction, who would you be?
Elizabeth Bennett from Pride & Prejudice. It would be neat to meet the REAL Mr. Darcy.
11. Did you have an imaginary friend growing up?
No, not really. I had a younger sister to hang out with so I guess I didn't need an imaginary friend to keep me company.
12. Have you always wanted to be a writer or did to in-vision yourself doing another career when you were young?
Yeah, I've always wanted to be a writer, though I'd love to be a stunts-woman on the side.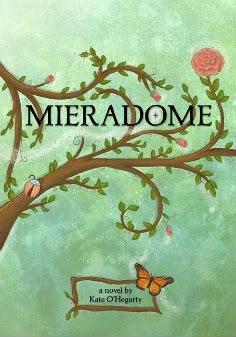 Thank you again Kate for doing this wonderful interview and good luck with you new book. I will so read this one. It sounds amazing! :)
I hope my followers enjoyed this interview with Kate and will now be encouraged to read,
MIERADOME!